© 2010 Company Name. All rights reserved. 

Justin Sands has been providing high-quality fishing adventures since he started guiding in 1997.  Every day, he strives to provide you with friendly service and the best fishing experience in the business.  If you are seeking a Bonefishing adventure in the Abaco's, look no further. 

Justin's Boat is a 16' Waterman made by Hells Bay Boatworks that is perfectly fitted for getting into the shallow water of the Marls and getting you where the Bonefish are.

Due to demands for dates advanced reservation encouraged. If you would like to experience Abaco Bonefishing the way it is meant to be, don't wait any longer and reserve your trip today! 

For all inquiries please see the "contact" page!

Fishing Days

Monday - Friday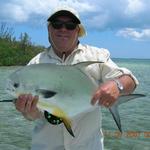 Member of  the Abaco Fly Fishing Gude Association